St. John's is pleased to be a non-profit partner with Conquest Graphics.  In 2015 we were fortunate to receive a grant from Conquest to help us with our printing costs.   WITH YOUR HELP we could win again!
Please click the link below to go to our page on the Conquest Graphics website.  Once you are there, LIKE US!
We are currently in last place!  What an amazing revolution it would be if we got enough likes to turn the tide in our favor.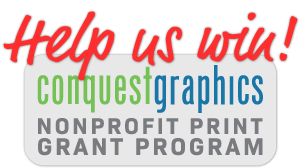 Thank you for an amazing year everybody.
And thank you to Conquest Graphics for this wonderful opportunity to win a print grant!